The Sovereign Voice Magazine
The ITNJ Newsletter
The Sovereign Voice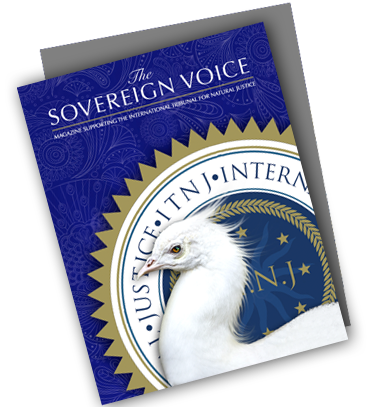 The Sovereign Voice launched in April 2015 as a monthly subscription publication.  It is authored by many of the world's leading figures in restorative law and invites all people to submit articles of interest for inclusion.  The magazine will track the historic efforts of the International Tribunal for Natural Justice as well as profile the evolution of humanity from the 'old earth' paradigm into a 'New Earth' of self-governance through the liberation of humanitarian efforts.  It will avail itself as an invaluable resource of wisdom and knowledge sharing between all peoples of the world committed to restoring freedom, natural justice and common dignity.
Please subscribe to The Sovereign Voice via the ITNJ Committee Crowdfunding page, where a contribution of $5 USD per month is acknowledged with Thank-You gifts that include a subscription to The Sovereign Voice magazine and front-row seating for live-stream broadcasts of all ITNJ proceedings via New Earth Nation TV, as well as access to all regular programming on that venue.
The ITNJ Newsletter
The ITNJ Newsletter launched in May 2015 as the free court circular of the International Tribunal for Natural Justice.  It will report on additions to the docket of the Tribunal, decisions of the Tribunal, events coming up for a vote via the e-Governance platform, results of e-Governance voting, and will also publish press releases and other announcements related to the ITNJ.
Please complete the form below to subscribe to the ITNJ Newsletter.